Wednesday, February 18, 2015 @
05:02 PM
Powers introduced in the government's flagship Immigration Act are cracking down on the appeals conveyor belt used by criminals to delay their removal from the UK. And more than 300 have already been removed – with nearly 500 more currently going through the system.
Non-suspensive appeals came into force in July, meaning Home Office officials can deport criminals before they have the opportunity to launch spurious claims under the Human Rights Act or falsely claim asylum.
Those deported then have the right to launch an appeal from their own country, rather than clogging the British justice system – costing UK taxpayers time and money in fighting the cases through the courts.
And the new powers have seen a number of criminals deported despite having family members in the UK – reinforcing the government's stance that the right to a family life should not override the rights of wider society.
Immigration and Security Minister James Brokenshire said:
Foreign nationals who abuse our hospitality by committing crime in Britain should be in no doubt of our determination to deport them.

The countless appeals and re-appeals lodged by criminals attempting to cheat the system cost us all money and are an affront to British justice.

Non-suspensive appeals are allowing us to kick out foreign criminals more quickly and more efficiently than ever before and I want to see them used as often as possible.

Alongside tougher crime fighting measures, improved protection at the border and greater collaboration between police and immigration enforcement officers, the Immigration Act will help us deliver an immigration system that is fair to the people of this country and legitimate immigrants and tough on those who flout the rules.
The Act has also slashed the number of appeals available to foreign criminals from 17 to just four. And they have been denied the right to appeal against deportation simply because they do not agree with our decision.
Under the new rules, once a decision has been taken to deport a foreign criminal they will have to lodge any appeal and all papers their lawyers think are relevant to their attempts to stay from outside the country. This is putting a stop to delaying tactics often employed by criminals desperate to thwart justice. Previously, it was commonplace for criminals to submit to the court reams of new, unconsidered 'evidence' creating legal delays while government lawyers studied the new paperwork.
The non-suspensive appeals measures will work alongside other powers in the Immigration Act to speed up the justice system and make it more efficient.
Note:
The figures in this article are taken from internal management information compiled by Home Office officials (between 28 July 2014, when the first Immigration Act Commencement Order was laid and when the amendments to the EEA Regulations came into effect, and 17 December 2014). They are provisional and so subject to revision.
All of these cases in this article are associated with non-suspensive appeals for deportees. These are contained in Section 17(1) and 17(3) of the Immigration Act 2014 (certification of human rights claims made by persons liable to deportation) and, in respect of EEA nationals, in Regulations 24AA and 29(3) of the Immigration (European Economic Area) Regulations 2006 (as amended) (human rights considerations and interim orders to suspend removal, and effect of appeals). Regulation 29(3) provides that an appeal against a deportation decision no longer automatically suspends removal proceedings.
Further regular information on removals and voluntary departures can be found in the Home Office's quarterly Immigration Statistics publication.
Saturday, February 14, 2015 @
03:02 PM
Immigration Minister James Brokenshire has said that a "loophole" that allows non-British EU citizens to bring in a spouse without being subject to the Government's requirements on minimum earnings needs to be addressed, BBC News reported yesterday.
Brokenshire was giving evidence before Parliament's Home Affairs Committee for their inquiry into the work of the Immigration Directorates.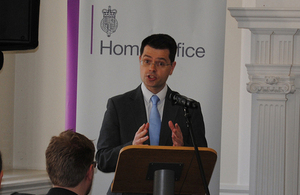 Under the minimum earnings requirements introduced into the Immigration Rules in July 2012, British citizens (or those with indefinite leave) wishing to sponsor their non-EU spouse's visa need to prove earnings of at least £18,600 a year.
However, Home Affairs Committee chairman Keith Vaz pointed out a loophole to Brokenshire that meant the same earnings requirements did not apply to citizens of other EU countries.
BBC News quoted Vaz as asking: "Two people living in identical houses next to each other – one who happens to be British born or a person with indefinite leave tried to bring someone from India, they have got to show their £18,600 … However, the next door neighbour who comes from Slovakia, who has settled in Leicester, and who wants to bring her spouse in, doesn't have to show that income. That's unfair isn't it?"
According to BBC News, Brokenshire said Vaz was "right to highlight" the unfairness and it was an issue the UK planned to raise with the EU.
"I don't find that acceptable and it something that needs to be addressed," he was quoted as saying.
Saturday, February 14, 2015 @
03:02 PM
In a notable new judgment handed down today on changes made to applications for leave to enter or remain on the basis of an applicant's private or family life, the Court of Appeal has criticised the complexity and lack of intelligibility of the Immigration Rules and called for them to be properly archived.
See, in particular, paragraph 59 where Lord Justice Underhill states: "Paragraph A277C, as amended by HC 760, which I set out at para. 52 above, is not alas untypical of the kind of rebarbative drafting which those trying to understand the Rules have to grapple with. I fully recognise that the Immigration Rules, which have to deal with a wide variety of circumstances and may have as regards some issues to make very detailed provision, will never be "easy, plain and short" (to use the language of the law reformers of the Commonwealth period); and it is no doubt unrealistic to hope that every provision will be understandable by lay-people, let alone would-be immigrants. But the aim should be that the Rules should be readily understandable by ordinary lawyers and other advisers. That is not the case at present. I hope that the Secretary of State may give consideration as to how their drafting and presentation may be made more accessible."
Lord Justice Underhill also said that it is essential that the Home Office should make available an accurate archive of all previous consolidated versions of the Rules after counsel for the respondent said any current archive may not be "entirely accurate".
Underhill stated at paragraph 58: "Counsel were asked whether previous versions of the Rules were available online, either from legal publishers or on the Home Office website. In his post-hearing written submissions Mr Malik told us that he understood that it was possible to obtain from the National Archive website consolidated versions of the Immigration Rules as they stood at any given date. Mr Blundell, however, responded that that was not the case. The Home Office produces consolidated versions of the Rules following each Statement of Changes, and publishes the current version on its website, but previous versions are not displayed and whatever may be available from the National Archive is "not entirely accurate": the only way that a member of the public or practitioner can definitively ascertain the state of the Rules at a given time in the past is by perusal of the Statements of Changes."
Lord Justice Underhill continued: "If that is really the case, it is unacceptable. The Statements of Changes are so frequent and so detailed that it would be intolerably laborious for anyone, even a specialist, to start with the current version and to work back, stage-by-stage, to establish how the Rules stood months or years previously. In my view it is essential that the Home Office should make available an archive of all previous consolidated versions of the Rules in a form that enables the public and practitioners to see clearly what rules were in force at any given date: if such an archive is not maintained for working purposes within the Home Office (which would be surprising) it will have to be created, though I pity whoever has to undertake the task."
Sunday, February 8, 2015 @
08:02 AM
Press and Information
Court of Justice of the European Union
PRESS RELEASE No 11/15
Luxembourg, 28 January 2015
Advocate General's Opinion in Case C-579/13
P & S v Commissie Sociale Zekerheid Breda, College van Burgemeester en Wethouders van de gemeente Amstelveen
In the view of Advocate General Maciej Szpunar, an integration obligation imposed on long-term residents is not contrary to EU law, provided that it does not constitute a condition for the maintenance of that status
The obligation on such residents to pass a social-integration examination is contrary to the principle of proportionality
The directive on the status of third-country nationals who are long-term residents [1] provides, in particular, that Member States are to grant long-term resident status to third-country nationals who have resided legally and continuously within their territory for five years immediately prior to the submission of the relevant application. The Member States may, none the less, require third-country nationals to comply with integration conditions laid down in national law. The directive does not, however, indicate whether and to what extent such an integration obligation can be imposed on a person once that person has acquired long-term resident status.
In the Netherlands the integration obligation imposed on foreign nationals includes the duty to pass an examination relating to Dutch-language proficiency and basic knowledge of Netherlands society. Failure to comply with that duty in time attracts a fine.
In the present case P, a United States national who has been resident in the Netherlands since 2002, obtained long-term resident status in 2008. In the same year, the Commissie Sociale Zekerheid Breda (Commission for Social Security, Breda) informed P that she was obliged under Netherlands law to satisfy the integration requirement and was required to pass the corresponding examination within a certain period. P began an integration training programme but interrupted it on health grounds and never resumed it.
S, a New Zealand national, has lived in the Netherlands since 2000 and obtained long-term resident status in 2007. In 2010 the College van burgemeester en wethouders van de gemeente Amstelveen (the Mayor and Executive Board of the Municipality of Amstelveen) informed S that she was under an integration requirement and was required to pass the corresponding examination within a certain period.
Arguing that, as persons holding long-term resident status, they were not subject to the integration obligation, P and S challenged the decisions in question. The Centrale Raad van Beroep (Higher Social Security Court), before which the disputes have been brought on appeal, has referred to the Court of Justice questions for a preliminary ruling in the case and seeks to determine whether it is compatible with Directive 2003/109 to impose on third-country nationals who have acquired long-term resident status an integration obligation, failure to satisfy which attracts a fine.
In his Opinion delivered today, Advocate General Maciej Szpunar first of all points out that the directive confers a special legal status on third-country nationals who have settled permanently in the Member States because this helps promote economic and social cohesion within the EU. This does not, however, deprive Member States of all possibility of providing for means of integration in relation to long-term residents.
Next, in the Advocate General's view, the introduction of integration measures for those with long-term resident status is not at variance with the objectives of the directive, as those measures are designed exclusively to integrate long-term residents into the social and economic life of the host State. National provisions providing that the integration obligation is a condition for the maintenance of long-term resident status or for the exercise of the rights associated with that status would, by contrast, be incompatible with the directive.
The Advocate General stresses that national provisions which introduce integration measures for a long-term resident come within the scope of EU law. Consequently, the margin of discretion which Member States are recognised as having in this area may not be exercised in such a way as to affect adversely the objective of the directive and its practical effectiveness. In addition, the national provisions must also comply with the principle of proportionality. The integration obligation must therefore not make it excessively difficult for those with long-term resident status to exercise the rights which they derive from that status.
The introduction of a compulsory examination designed to test language proficiency or knowledge of society does not, in the opinion of the Advocate General, contribute to attainment of the objective pursued by integration measures, that is to say, facilitating the social integration of the person concerned. The introduction of the obligation to pass an integration examination also brings into question the rationale underlying the integration measures, which must be measures, designed to foster social integration in the society concerned and may not establish requirements as to qualifications in connection with residence in the State in question. Any person who has, however, lived for a long time in the State in question will undoubtedly be linked with that State through a network of integrating connections centring on family, work, neighbourhood relations or hobby pursuits. An integration measure which does not allow for individual evaluation of such factual circumstances will therefore, in view of the objective of promoting further social integration of the person concerned, be disproportionate.
The Advocate General regards as equally disproportionate the penalty, in the form of a fine, which is provided under Netherlands law for failure to comply with the integration obligation.
In the light of the foregoing considerations, the Advocate General proposes that the Court should rule that Directive 2003/109 does not prohibit the introduction of integration measures for third-country nationals who are long-term residents. Such measures must, however, have the exclusive purpose of facilitating the integration of the person concerned and must not constitute a condition for the maintenance of that status or for the exercise of the rights which flow from it. In particular, those measures may not include any obligation to pass an examination relating to social integration.
NOTE: The Advocate General's Opinion is not binding on the Court of Justice. It is the role of the Advocates General to propose to the Court, in complete independence, a legal solution to the cases for which they are responsible. The Judges of the Court are now beginning their deliberations in this case. Judgment will be given at a later date.
NOTE: A reference for a preliminary ruling allows the courts and tribunals of the Member States, in disputes which have been brought before them, to refer questions to the Court of Justice about the interpretation of European Union law or the validity of a European Union act. The Court of Justice does not decide the dispute itself. It is for the national court or tribunal to dispose of the case in accordance with the Court's decision, which is similarly binding on other national courts or tribunals before which a similar issue is raised.
Contact ICS Legal on 0207 237 3388 or e-mail us on info@icslegal.com. ICS Legal is a specialist legal firm solely dealing with UK migration. 

Saturday, January 3, 2015 @
01:01 PM
The Dublin procedure:
guarantees that your application for asylum reaches the authority of the country responsible for examining it
ensures you don't make many applications for asylum in several countries to extend your stay in Dublin countries
The Dublin procedure covers 32 countries. The 'Dublin countries' are:
Austria
Belgium
Bulgaria
Croatia
Cyprus
Czech Republic
Denmark
Estonia
Finland
France
Germany
Greece
Hungary
Ireland
Italy
Latvia
Lithuania
Luxembourg
Malta
Netherlands
Poland
Portugal
Romania
Slovakia
Slovenia
Spain
Sweden
UK
As well as the 4 countries 'associated' with the Dublin system:
Norway
Iceland
Switzerland
Liechtenstein
The Dublin procedure finds out which country will examine your application for asylum. This means you may be transferred from the UK to a different country that is responsible for your application. Until we decide which country is responsible for deciding on your application, we won't consider your application.
Get Legal Advice
Contact our team on 0207 237 3388 or e-mail us on info@icslegal.com
Success Stories
Rommell "Got my settlement in the UK with ICS Legal. Service when face to face was excellent"